the possibility of flight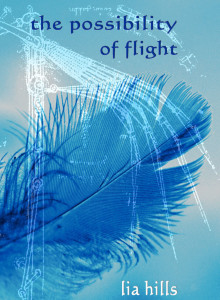 Winner of the Interactive Press poetry manuscript award 2008
The poems in Lia Hills' first collection, the possibility of flight, journey from 'artesian memories' of the Australian desert to the 'shifting territory of the gods' in rural Pakistan, investigating where we seek out meaning as they move between love, language and faith.
Reviews:
'There is something special about Lia Hills' poetry, something ineffable that takes flight 'out of the humus of emergent things'.' – Greg Delanty, Guggenheim Fellow and Oxford poet.
'Lia Hills is a poet who takes lyric poetry and fills it with philosophical nous. Her vision begins with intimacy, then looks outward – taking in phenomena – a 'song rises in search of a tongue' and 'absence travels the duskpaths' until the poet realises it is the emptiness that sings'.  The language is sparse and musical. The subjects range from war to 'memory games', love and family. This is a rich book and with each re-read I was rewarded with the deeper meanings under the mannered surface of the craft. In this book Hills takes a flight from the moral self, out over the possibilities of prayer and the imagination, back to the music of love mentioned in the great poems of Rumi. This is a rich and rewarding book.' – Robert Adamson, winner of The Age Poetry Book of the Year 2007.
Available at Collected Works, Nicholas Building, 37 Swanston St, Melbourne,
or contact Lia
Extract from the possibility of flight:
an anatomy of birds
You found it in the humus
of emergent things, its
feather skull one hundredth
of its skyborne weight, grey
treasure gone, keel clung to
its breast no longer obliged
to guide and pitch, your fingers,
still with their flesh, decadent
against this picked white, your
density fondling its hollowness,
the cavities that once dissected
light, one feather fixed to its
ladder spine, Jurassic toes coiled
to their fate, your hand defies the
giant's requisite to crush, this fragile
survey of the possibility of flight.