Australian Independent Bookseller's Book of the Month – March 2017
 'One of the books of the year!'
– Michael Cathcart, Radio National, Books and Arts Daily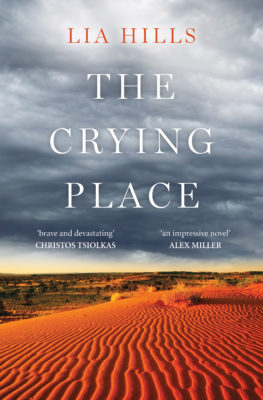 Reviews:
'…a brave and devastating novel…its grace, its compassion and its deep humanity, makes you see our country anew.' Christos Tsiolkas
'…an impressive novel of friendship and the haunting contradictions at the base of Australian society.' Alex Miller
'…extraordinary…a frank, poetic and boldly human work.' The Weekly Review
'…richly imagined…Hills' writing is evocative and vivid, creating a novel that shimmers like a red sand landscape in desert heat.' The Weekly Times
'…an eloquent vision of the red and rugged interior on its own terms, and of those of its inhabitants…there's a link here with Patrick White. He, too, wanted to show the mystery and poetry that lurks behind a disguise of ordinariness…evocative and beautifully realised.' The Sydney Morning Herald
'…impressive…it recalls some of the broken urgency of the Tim Winton in Dirt Music.' The Australian
'…a coming of age story, both for individuals and the nation.' The Saturday Paper
'The curiosity in Lia Hills' novel The Crying Place comes from the way it was first recorded – orally spoken and taken down with voice recognition software in order to get closer to traditional methods of storytelling.' The Guardian, March literary highlights
'…remarkably brave…spellbinding.' Riverine Herald
'In Lia Hills' capable hands, the landscape becomes a character in its own right…The Crying Place is a beautifully written and haunting novel that focuses on the importance and significance of the journeys we take in life.' The Big Issue
View the trailer of The Crying Place
Listen to Lia speaking with Michael Cathcart about The Crying Place on Radio National's Books and Arts Daily here.
Hear Indigenous actor Mark Coles Smith read an extract from The Crying Place here
Read an excerpt from The Crying Place here
A stunning novel that takes the reader into the mysteries and truths that lie at the heart of our country.
After years of travelling, Saul is trying to settle down. But one night he receives the devastating news of the death of his oldest friend, Jed, recently returned from working in a remote Aboriginal community. Saul's discovery in Jed's belongings of a photo of a woman convinces him that she may hold the answers to Jed's fate. So he heads out on a journey into the heart of the Australian desert to find the truth, setting in motion a powerful story about the landscapes that shape us and the ghosts that lay their claim.
The Crying Place is a haunting, luminous novel about love, country, and the varied ways in which we grieve. In its unflinching portrayal of the borderlands where worlds come together, and the past and present overlap, it speaks of the places and moments that bind us. The myths that draw us in. And, ultimately, how we find our way home.
'Lia Hills' The Crying Place is a brave and devastating novel of grief, place and belonging. I was swept up in her voice and by her storytelling skills right from the opening pages and I wasn't released back into the world until I reached the end. Even then, the novel doesn't let you go. Its grace, its compassion and its deep humanity makes you see our country anew. This book is bracing and tough, kind and generous.'
~ Christos Tsiolkas, author of The Slap
'The Crying Place is an impressive novel of friendship and the haunting contradictions at the base of Australian society.'
~ Alex Miller, twice winner of the Miles Franklin