Tom is Dead
by Marie Darrieussecq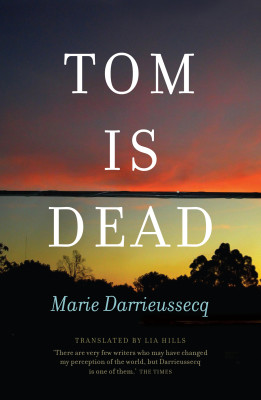 Nominated for the Prix Fémina and the Prix Goncourt
Translated by Lia Hills
Set in the Blue Mountains and in Sydney, Tom is Dead is a suspense novel about grief. The narrator's son has been dead for ten years; he was four and a half. For the first time since that day, she spends a few minutes without thinking of him. To stop herself from forgetting, she tries to write Tom's story, the story of his death.
She writes about the first hours, the first days, and then about the hours and the days before. She strives to describe it all as precisely as possible. It's the details that will lead her and the reader to the truth.
'I love the way Marie Darrieussecq writes about the world, as if it were an extension of herself and her feelings.' – J.M.G. Le Clézio, Nobel Laureate for literature 2008
Marie Darrieussecq was born in 1969 in Bayonne, France. Her debut novel, Pig Tales, was published in thirty-four countries and became the most popular first novel in France since the 1950s. Her second novel, My Phantom Husband, became an immediate bestseller. Marie lives in Paris.
Reviews of Lia's translation:
'The English translation is masterfully executed by Lia Hills, a Melbourne-based writer who has herself made an impressive mark on the literary landscape." – The Australian.
'Lia Hills is an aptly chosen translator and she has produced a text as powerful as the original.' – The Monthly.
To order copies of Tom is Dead see: www.textpublishing.com.au